The Truth About Your New Car Warranty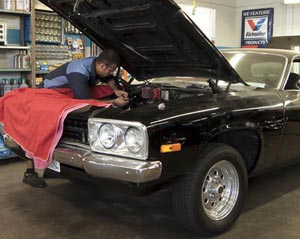 If you think you must
return to the dealership for service on your new car
because you fear you may jeopardize the warranty—you're not alone. It's a common misunderstanding. Many car owners believe there is "some rule" requiring that any service or repair has to be completed at the dealership to maintain the warranty.
The 
Magnuson-Moss Warranty Act
 of 1975 ensures a consumer the right to use their auto repair shop to perform
manufacture's scheduled maintenance
without voiding the warranty. One of the act's main points is that manufacturers can't mandate where a consumer must get their service work performed. 
At Kerber Auto our 
maintenance recommendations
 are not only based on the manufacturer's minimum requirement but are also based on each customer's individual driving habits and needs. Our customer's best interest and safety is at the heart of our recommendations.  
In the event of a factory warranty issue, we have documentation of all maintenance and repair we have ever performed on your car. These records can be delivered via fax, email or mail to you or directly to the dealership service manager.
You can rest assured the service and repair performed at Kerber Automotive will maintain your car's warranty.
Please feel free to give me a call with any questions.
909-981-6844
Kerber Automotive has been
servicing and repairing automobiles
since 1979 in Upland and beyond.
"I've been with Kerber Automotive for many years and sincerely appreciate the personal and exceptional service that keeps my car running smoothly—which keeps me running smoothly too! Hard to find these days! Great service."
—Elizabeth B, Upland, CA